News from 18.06.2018
On the Trail of the Exhibition - Lord of the Rings Cinema Night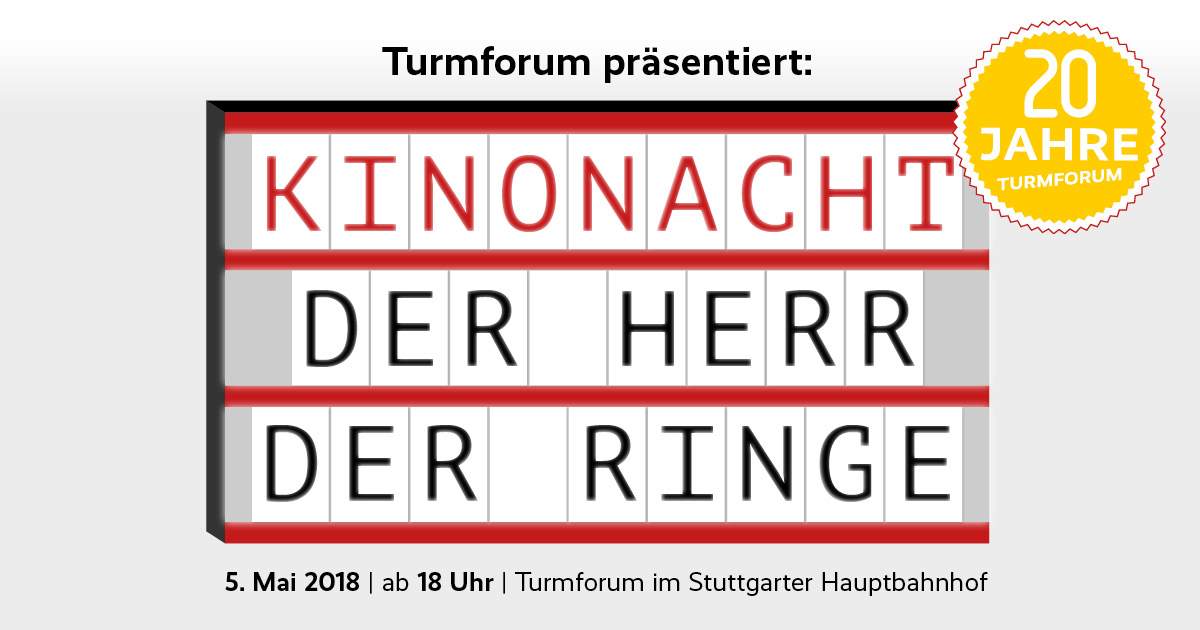 The Turmforum is 20 years old. Of course we want to celebrate - with you! Let's start with the long "Lord of the Rings Cinema Night".
Saturday, May 5, 2018
From 6 pm starts the first hall
End vrsl. around 7 o'clock
Admission from 17:30
Admission: 15€
For 5€ you can book a snack menu.
Of course, you can also buy popcorn, soft drinks, beer and munchies from us.
We show all three Lord of the Rings parts one after the other, each in the Special Extended Version.
There are three screenings that start one hour later. Two of them are in German and one in the original English version.
The detailed game times are:
Level 9 (English): Admission 17:30, film start 18:00, approx. end 07:00
Level 3 (German): Admission 18:30, film start 19:00, approx. end 08:00
Level 5 (German): Admission 19:30, film start 20:00, approx. end 09:00
Get your tickets now at our information desk at the Turmforum in the main station (Arnulf-Klett-Platz 2, 70173 Stuttgart).
The presale starts in the middle of next week. We are looking forward to seeing you there!
Cuio vae mellon! (Farewell/ Take care friend!)
P.S.: For the orcs, elves, hobbits, dwarves and wizards among you: Come dressed up! The best costume gets its own treasure!
*The event is from 18 years.