News from 22.02.2022
Finally possible again: Construction site open days at Stuttgart Central Station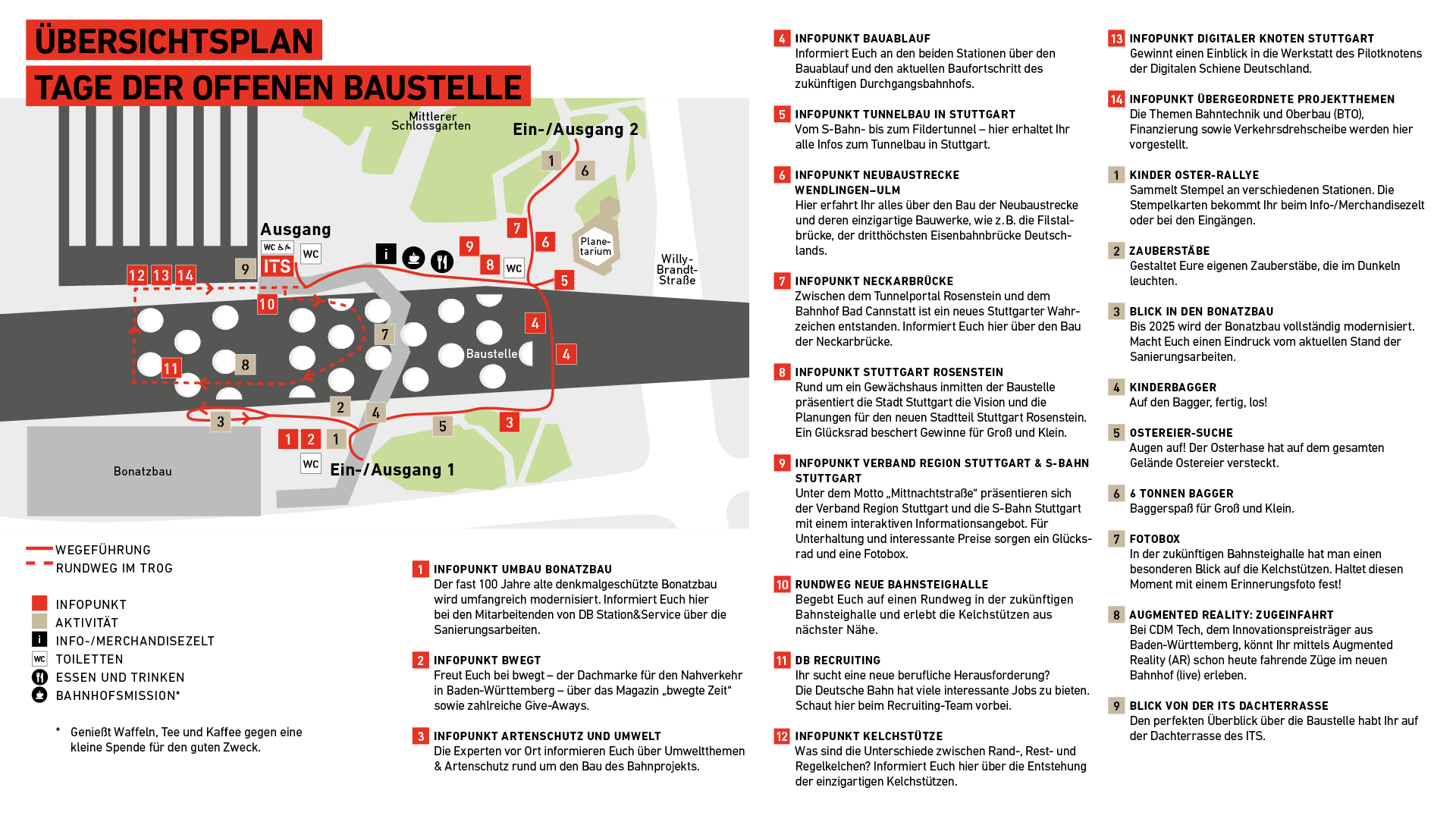 Experience Stuttgart 21 live - finally possible again: the open construction site days at Stuttgart Central Station from April 16 to 18, 2022
At Easter, we open the gates to one of the largest and most impressive construction sites in Europe for you.
The view into the future
As many as 20 goblet supports line up to form the station roof - an impression you have to experience live.
From Holy Saturday to Easter Monday, each from 10 am till 5 pmYou will have the unique opportunity to see for yourself the current construction progress of the new Stuttgart Central Station and to view the unique goblet supports up close. Take the opportunity to take a look into the future!
A visit is worthwhile for young and old
On the construction site, which is a good 400 meters long, you will receive first-hand information about the Stuttgart-Ulm rail project and beyond: for example, about the future Stuttgart Rosenstein district, the conversion of the Bonatz Building and how the technology of the Stuttgart Digital Node works. Exchange ideas directly with the experts and have the various aspects of the project explained to you.
Of course, there will be an appealing supporting program again this year - also for children.
You can look forward to an exciting Easter rally, an Easter egg hunt, digging for young and old, a photo box and great raffles. Musical entertainment will be provided by Jonnes (16. and 17.04.) and Birds Of A Feather (18.04.).
All information about our information points and attractions can be found on the map or the Event flyer take out.
So be excited for a day full of impressions for friends and family. We are looking forward to seeing you!
The most important info
April 16-18, from 10 a.m. to 5 p.m. (last admission at 4:30 p.m.)

Admission is free of charge.
The entrances are located in the Mittlerer Schlossgarten at the Planetarium/ Wullesteg and at the exit of the Klettpassage to the park.
Since this is a construction site, the areas are only partially barrier-free. Sturdy shoes are also required.
In accordance with the currently valid Corona Ordinance of the State of Baden-Württemberg dated April 1, 2022, there will be no corona-related access restrictions (e.g. 3G) or a mask requirement. However, we recommend wearing a mask in areas where a distance of 1.5 meters to other persons cannot be maintained.