News from 06.12.2019
Interview with the new chairman of the ITS Bernhard Bauer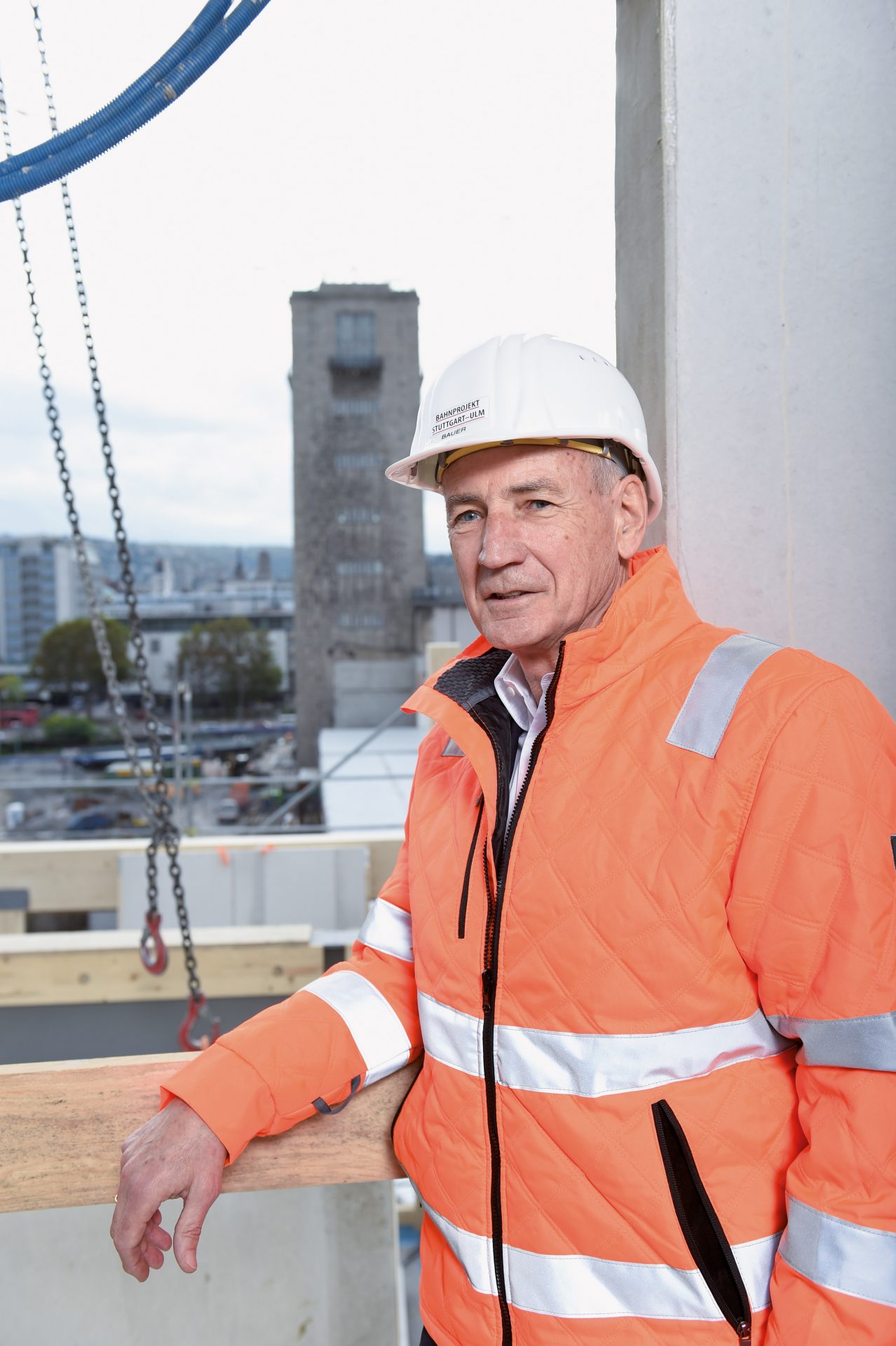 "Fascinate many people"
Bernhard Bauer has been in office as chairman of the Stuttgart-Ulm rail project association since August 2019. In this interview, he talks about the new exhibition - and makes it clear that his goal is to generate new enthusiasm for the rail project.
Mr. Bauer, you used to be a handball goalkeeper in the Bundesliga. If necessary, can you also be the director in the back, who harmonizes perfectly with the S21 partners from politics at the circle in terms of passing technique?
Bernhard Bauer: In handball, a goalkeeper not only defends balls, but also opens up the game and can also give the decisive pass. Incidentally, in handball, too, you can only be successful if you work together. That's how I interpret this game and that's how I see my new role here at the helm of the club.
Sometimes, of course, it takes the defender - after all, the project doesn't only have friends.
Bernhard Bauer: As an association, we take care of both - those who are our friends and those who are more critical of us. This already touches on one of the tasks of the association's chairman: above all, it's about moderating. And it is about coordinating and presenting this project in all its fascination, without concealing the fact that there are also issues that are quite challenging on the way to completion. For those who are building as well as for those who are affected by it. In this respect, the association's team has already done a very good job in the past. This is something to build on.
How do you assess the relationship among the S21 partners? Are there any innovations under your direction?
Bernhard Bauer: First of all, it is important to preserve what has been tried and tested. That's what we're doing. I've known the communications office almost since the beginning, and my predecessors in this office have done a lot and focused on direct communication. We therefore don't have to completely reinvent the wheel here. However, I would like to make the project more tangible and more tangible in the future. Take, for example, the discussion about the platform slope that arose some time ago. Many a critic described the situation as dangerous. This has stoked fears among the population. However, if you are on the construction site yourself for the first time and are not just guided by hearsay, if you see the new platform directly on site, you will see that no baby carriages roll away here and that there are no other dangers either. Many critically viewed issues can be made clear and eliminated by taking a closer look. I see this as a central task.
You were once actively involved in the mediation process as a state official and have known the project, which is not considered easy to manage, for many years. What ultimately persuaded you to take on this rather difficult office?
Bernhard Bauer: I have known this project since the early days of planning in the late eighties. In the mediation, I got to know many facets in the pros and cons and I am still fascinated by Stuttgart 21 and the new line. What convinces me is that this project is not only a benefit for Stuttgart, but for the whole of Germany, because we are realizing a project of short distances here. This is important for the customer and the infrastructure is the basis for short connections without changes. This will make rail travel much more attractive. We will get many people to switch from car to rail because the benefits will speak for themselves. If, in the future, it takes me little more than 30 minutes to get from Stuttgart to Ulm, that's shorter than a trip from the extended outskirts of Stuttgart to the city center. Word will get around and lead to a change in habits. But there will also be short commutes in the Baden-Württemberg state capital itself. In Stuttgart, completely new residential areas are being built right in the center. This is climate-friendly, because there is no need to build on greenfield sites in the outskirts of the city and thus produce commuter traffic. All in all, this project is forward-looking, it is an ecological project and it is a project that deserves everyone's support. That's exactly why I'm here doing this work.
Ecology is a buzzword in times when everyone is talking about climate change. Is that why you used it?
Bernhard Bauer: No, I used it because this project is really ecological. When people switch from cars to trains running on green electricity, it helps reduce pollutants in the air. Also, more people can live right where they work because of the project. Inner development instead of outer development. If these areas in the city center were not freed up by Stuttgart 21, there would have to be a
60 hectares can be built on the same scale on a greenfield site. At the same time, it is possible to set new ecological standards for construction in the middle of Stuttgart. Those who move into the new houses can walk to work in the city, take the bike or the S-Bahn. It is also ecological that we will have less noise in the city by running the trains underground, that we will have more green spaces when Rosensteinpark is expanded by 20 hectares after the above-ground tracks are removed. This project is ecological through and through.
Well said. Do you actually know the Elevator Check?
Bernhard Bauer: No, help me out here.
The point is to promote something within an elevator ride that lasts only a few seconds, so that the passenger in the elevator is convinced of the arguments in the long term. Just name the core arguments for the new elevator-speed rail hub.
Bernhard Bauer: After 170 years, the railroad infrastructure is renewed, fast and direct connections from node to node, attractive mobility, less noise, efficient rail transport for the future, creation of living space in the city, short distances, more green spaces, reduction of air pollution. Sustainable mobility in the best sense ...
... just opened the elevator door ...
Bernhard Bauer: ... that's a good thing, because I am the
Got rid of the most important ...
... what else would you like to have added?
Bernhard Bauer: I would like to talk a bit more about the new Rosenstein Quarter, which could become a model quarter with 7,500 apartments. An ecological, urban, lively city quarter that could serve as a model for new forms of housing throughout Europe. This is truly a unique opportunity for the city of Stuttgart, which, as the owner of the land, is in the special situation of being able to shape it itself. According to everything that can be heard so far - a competition has taken place - a great lighthouse project will be created here.
Unfortunately, what has been built so far next to and around Stuttgart's main station is not conducive to jubilation. Can you understand why some people are skeptical and say that there's bound to be a lot of gray concrete built up again?
Bernhard Bauer: I can understand that very well. Frankly, I think the Europaviertel was a missed opportunity. This should not and must not be repeated. However, Lord Mayor Fritz Kuhn and his team are keeping a very close eye on this issue. You can be sure of that. An exemplary neighborhood is being developed.
Do good and talk about it - unfortunately there is currently no showcase for the project. The Tower Forum has been closed for some time. When will the new show open and what can visitors expect?
Bernhard Bauer: It is indeed a pity that we have a transitional period where there is no exhibition. As of today, we will open the new showcase next spring right next to the construction site. At the same time, the move gives us the chance to do something new to
make. The new exhibition will open at the end of March. There, we will take the experience gained from the Tower Forum and present new interactive elements that will be of interest to visitors and allow them to experience the project in a new dimension. In addition, we will enable our partners to add their themes and accents so that there is a rounded picture. This includes S-Bahn connections, ETCS digital signaling technology, the history of the project, the development of the new Rosenstein Quarter. This will be a special exhibition, visitors can look forward to it.
Does opposition to the project also have a place?
Bernhard Bauer: Yes, he had that so far and he will have it again! The history of this project also includes the resistance against Stuttgart 21.
Your predecessor Georg Brunnhuber recently complained that the financial security of the association had not been clarified. Are You got further there?
Bernhard Bauer: In the meantime, I have held many discussions. There is reasonable hope that we will be able to present a budget in the near future that will allow the necessary planning security.
What are your goals for the next few years?
Bernhard Bauer: We not only want to inform people about this special project, we also want to get as many of them excited about it as possible. It is my very personal goal to awaken a new enthusiasm for this outstanding infrastructure project. I am sure that Stuttgart 21 and the new line will fascinate a great many people, especially when the construction work is over and operations start. It was similar with the trade fair, against which there were many demonstrations. Today, no one talks about it anymore and everyone commutes enthusiastically to the CMT. With Stuttgart 21, too, the day will come when, in retrospect, people will praise the wise decisions of those who put this promising project on the rails.