News from 25.05.2018
Family weekend at the Tower Forum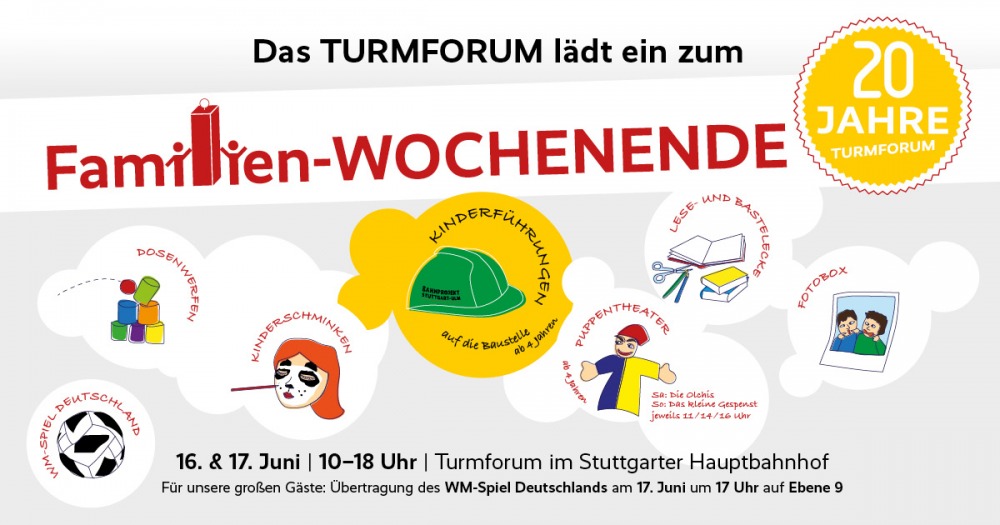 Happy Birthday Good Luck! To the birthday good luck! Smiley: Candles, cake, balloons: The Turmforum turns 20. Of course we want to celebrate - with you! This weekend we are gearing up for families and children and are looking forward to two great days with lots of fun and great offers!
Saturday, 16 and Sunday, 17 June 2018
Start: 10 a.m. each
End: 6 pm each
Admission: This event is free of charge.
As a unique offer, we provide guided tours for children to the construction site. Children (4 years and older) are allowed to enter the construction site with an accompanying person and our visitor guides. We will of course provide helmets and high-visibility vests. Please wear sturdy shoes. The tours start on the hour and on the half hour and last about 45 minutes. The Marotte puppet theater will perform two plays for you. On Saturday you can look forward to the Olchis and on Sunday you can be thrilled by the little ghost.
The plays begin:
Saturday, the Olchis: 11, 14 and 16 o'clock
Sunday, the little ghost: 11, 14 and 16 o'clock
Please note: The children's tours and the play are only for ages 4 and up. Both last 45 minutes.
In our reading and craft corner, you can make ICEs and color in the tower mice Theo & Leo, depending on your mood. In addition, we will read children's stories. We also offer: Face painting for children, a photo box, where you can quickly become a conductor, can throwing and driving with ICE slide cars. And for soccer fans, there will be the World Cup match between Germany and Mexico on Sunday from 5 p.m. onwards.
If you like the offer, come by. We look forward to seeing you!
*Our offers do not include supervision of our little guests. Parents are liable for their children.